EDSON OPINES ON THE BEST AND WORSE USES OF MARKETING DOLLARS
with CU Content (Fall, 2015).

SEITEL ON HILLARY
in the O'Dwyer's PR Blog (April 28, 2015).

PARTNER FRASER SEITEL ADDRESSES THE EBOLA CRISIS
and reputation rebuilding in a Forbes.com commentary (October 20, 2014).

SEITEL ON NJ GOVERNOR
and the "Bridge" fiasco (January 9, 2014).

POLITICAL COMEBACKS REQUIRE MORE THAN THICK SKIN
Seitel tells CNN (July 10, 2013).

QUEBEC RAIL CATASTROPHE NEEDS CRISIS HELP
Fraser Seitel tells the CBC (July 10, 2013).

EDSON OPINES ON QUARTERLY EARNINGS
with The Conference Board Review (Spring 2013).

SEITEL COMMENTS ON NEW AIG AD CAMPAIGN
on Fox Business (January 4, 2013).

EDSON OPINES ON THE GLOBAL PR NETWORK PARADIGM
in the O'Dwyer's PR Blog.

OPINION BY FRASER SEITEL
"Silence Grants the Point"

FRASER SEITEL DISCUSSES OLYMPICS' SPONSORSHIP
with Fox Business (July 9, 2012).

EDSON OPINES ON THE OCCUPY WALL STREET MOVEMENT VERSUS THE BANKS
in the April 19, 2012 Banking New York.

COVER STORY ON ANGER MANAGEMENT
in the Spring 2012 Conference Board Review cites Andrew Edson and Fraser Seitel.

EDSON CITED FOR HIS WORLDCOM STEWARDSHIP
in the John Adams book, "In the Trenches" (February 2012).

FRASER SEITEL DISCUSSES THE REPUBLICAN CANDIDATES
with Fox News' Shepard Smith (October 26, 2011).

EDSON REFLECTS ON THE PAST
in Credit Union Business (May 2011).

PARTNER FRASER SEITEL'S LATEST BOOK JUST PUBLISHED
Industry pundit Jack O'Dwyer reviews it (September 30, 2010).

SOCIAL MEDIA AND IR...WHO NEEDS IT?
Article by Andrew Edson in the August 2010 issue of O'Dwyer's.

FRASER SEITEL ON BP'S ADVERTISING MOVES
amid the oil disaster (June 7, 2010).

FRASER SEITEL COMMENTS ON THE BP OIL SPILL IN THE GULF
and draws comparisons to the infamous Exxon Valdez spill (June 1, 2010).

OPEN LETTER TO TIGER WOODS
by Senior Partner Fraser Seitel (November 30, 2009).

FROM 'ROGUE' POLITICIAN TO BEST-SELLING AUTHOR:
DEFINING SARAH PALIN'S 'IT FACTOR'
Fraser Seitel comments on Sarah Palin's book from FOXNews.com.

USGA CAVES, RIGHTFULLY SO, AFTER ITS PR DISASTER
Edson tells the O'Dwyer Report (June 19, 2009).

FRASER SEITEL CITED AS ONE OF ONLY TWO PR EXPERTS OFTEN CITED BY THE MEDIA
according to University of Alabama study, reports odwyerpr.com
(September 30, 2008).

DON'T HUNKER DOWN WHEN MARKETS TUMBLE
Edson tells the Mann Report (September 2008).

THE ASSOCIATED PRESS QUERIED
Andrew Edson in a story on small business owners and vacations. The AP account appeared on July 18, 2008 nationwide

FOX NEWS CHANNEL INTERVIEWS
Fraser Seitel weighs in on the Presidential candidates on Fox News.
- Democratic Party's nomination of Barack Obama.


- John McCain's Next Move.

SENIOR PARTNER FRASER SEITEL (CENTER) LECTURED
on October 16, 2007 at Laboratory Institute of Merchandising, the Manhattan-based college for the business of fashion (www.limcollege.edu) at classes taught by Adjunct Professor Barry Zusman (right), a senior counselor at the firm. Flanking Seitel is Milan Milasinovic, chairman, Marketing Department. Perhaps coincidentally is that Seitel's book, The Practice of Public Relations is the required text.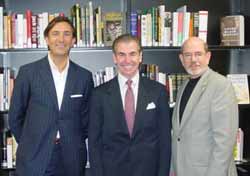 FRASER SEITEL
discusses White House PR with WNYC Radio's "On the Media" program on July 20, 2007.
ANDREW EDSON APPEARS IN "INSIDE THE MINDS: DEVELOPING PUBLIC RELATIONS CAMPAIGNS",
a new book published in May 2007 by Boston-based Aspatore Books (www.aspatore.com).

ANDREW EDSON REFLECTING ON THE PAST
in the winter 2007 issue of Cheklist magazine.

ANDREW EDSON ON THE SHIFTING SANDS OF EXCHANGE MERGER MANIA
in the July 2006 issue of O'Dwyer's PR Report.

TO FLACK OR FLAK – THAT IS THE QUESTION
commentary by Andrew Edson in the summer 2006 issue of Cheklist magazine.

FRASER SEITEL
as seen on FOX News Channel regarding the 'Bank of Opportunity'?

More News...